Are you looking for the perfect resort for a staycation or vacation?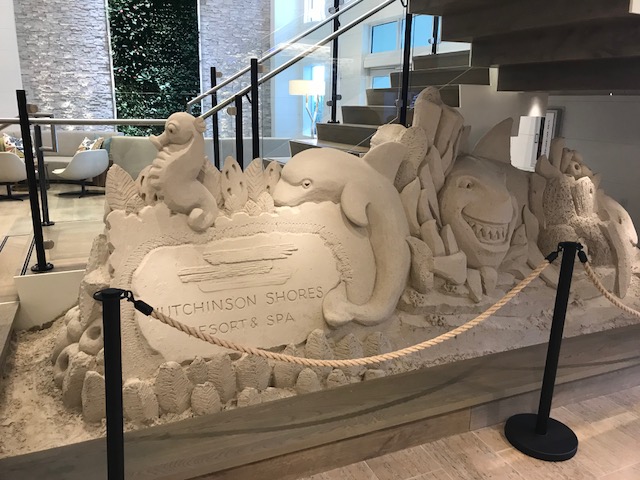 The new oceanfront Hutchinson Shores Resort and Spa is absolutely beautiful and is the perfect for a staycation or vacation. This hotel originally was destroyed by the hurricane and the bare bones of the building were left. It took extensive remodeling and adding on to the original building to make this a tranquil waterfront resort. There is valet service upon your arrival and once you enter the resort a beautiful sailfish hanging from the cathedral ceilings and a creative sand sculpture. The entire hotel is beautifully decorated with a modern/coastal theme which is surrounded by panoramic views of the Atlantic ocean. I had the opportunity to stay the night here for a Junior League women's retreat. Here are a few things that I love about the resort.
There are two pools to relax by, swim, and soak up the sun.  The first pool is a bit smaller but has amazing views overlooking the ocean. The second pool is much larger with a hot tub that has a lovely waterfall. From the pool area you can walk out to the beach with amazing views of the ocean. Read a book on the beach chairs with an umbrellas or watch your child build a sand castle. There is no better way to relax than to enjoy a morning or afternoon at the spa getting a massage or facial.
For dinner I had a three course meal starting with the mesclun green salad topped with mixed veggies and gorgonzola cheese with papaya vinaigrette dressing. For the main course I had  grilled peppercorn filet mignon for dinner with Portobello mushroom, red wine bordelaise and it was absolutely amazing!  For dessert the chocolate ganache cake which was decadent!
If you are just visiting this resort is a great location for being only 8 miles from downtown Stuart with many restaurants, galleries, and shops to explore. Also, you are close to the House of Refuge, Elliott's museum, Florida Oceanographic Society and more. Stuart is also known for being the Sailfish capital of the world since sailfish are plentiful in this area. Fisherman's paradise with many diverse types of fish that can be found in the intracoastal and Atlantic ocean. There are many watersports such as  snorkeling, kayaking, paddle boarding, surfing, canoeing and more!
These are only a few things that I love about the resort. If you live in the area and need a place for a staycation or are visiting the area and need a resort for your stay you won't be disappointed!