I made this soup the other night and it was delicious! It is a easy meal and everyone always loves this soup!
Sausage & Kale Soup
Prep: 10 minutes
 Cook: about 1 hour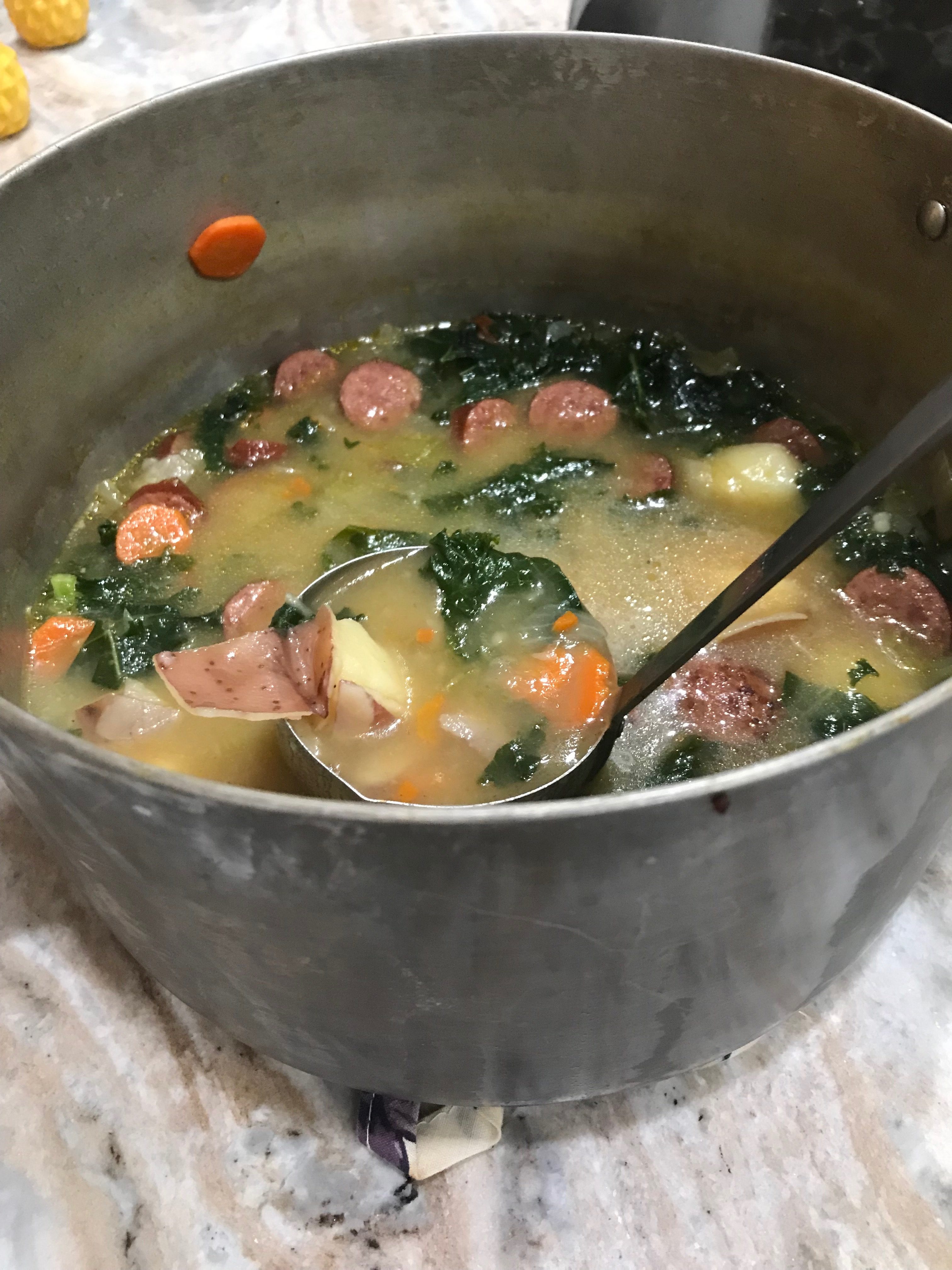 Ingredients:
2 TBSP olive oil
1 (14 ounce) package smoked sausage, such as Hillshire Farm, cut into 1/2 inch slices
1 Large onion
1 lb Red Potatoes, cut into 1/2 inch dice
4 celery stalks, cut into 1/2 inch dice
2 carrots. peeled and cut into 1/2 inch dice
1/4 cup all purpose flour
2 (32 ounce) boxes vegetable broth
Kosher salt
1 tsp freshly ground black pepper
1  lb baby kale (about 16 cups)
In a large soup pot, heat 1 TBSP olive oil over medium-high heat until hot. Add the sausage and fry, stirring occasionally, until browned (5-7 minutes). Use a slotted spoon  to transfer the sausage to a medium bowl and set aside.
Add another TBSP of olive oil to the pot and add onions, potatoes, celery, carrots, and cook, stirring occasionally, until the onion is translucent and the vegetables are slightly softened, about 10 minutes. Stir the flour and cook, stirring constantly for 1 minute.
Add the broth, sausage, salt to taste, and the pepper. Increase the heat to medium-medium high and bring to a boil. Reduce heat and simmer until he vegetables are tender and the flavors are combined, about 30 minutes.
Stir the kale and simmer until wilted, about 5 minutes. Ladle the soup into bowls. Serve hot.
The soup is best served soon after the kale is added. Store the leftovers in a covered container for up to 2 days.
Makes 8-10 servings.
Recipe Credits to Magnolia Table by Joanna Gaines